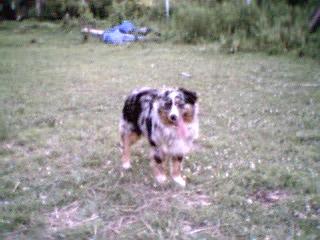 We have been breeding Australian Shepherds since 1985
and strive to breed for the original breed standards.
As well as a bigger boned, shorter muzzle, wider head
look, and temperment is number one around here. All
are raised on a horse farm with children and cats.
Though we have never shown any of our dogs several of
our pups have went on into the show ring placing very
high in conformation and obediance. We have not been
able to keep up with all that have shown but have
heard of a few taking reserve champion in AKC and ASCA
shows when they were starting out in the show ring.
Our dogs also work as they are bred to do, but most of
our dogs have gone to family homes. We believe anyone
should be able to afford one of these great dogs so
have kept our prices low for everyone's budget.